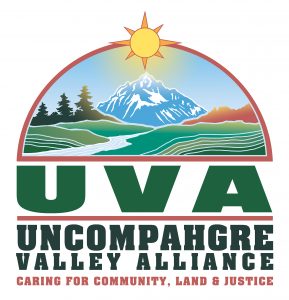 Since 1982, UVA has worked for a healthy and sustainable community in Montrose County based on social and economic justice and environmental stewardship. This year (2018) we've changed our name to Uncompahgre Valley Alliance, to better align with Western Colorado Alliance's recent name change!
Recent Activities:
Clean & Renewable Energy: In 2017, UVA members launched a new campaign to elevate our region's clean energy economy. As a first step, they focused on generating local support for C-PACE (Commercial Property Assessed Clean Energy), a relatively new program available through the state of Colorado.. <>
Montrose Dark Sky Initiative: The Montrose community has the opportunity to protect this special resource in our own backyard, and to raise awareness about the importance of reducing light pollution for the health of individuals, our community, and the wildlife of our planet. In 2016, UVA members succeeded in working with the City of Montrose to pass a Night Sky Preservation Resolution. Through our efforts to protect dark skies, we strive to achieve the following:

Launch a city-wide campaign to reduce light pollution and amount of energy used on outdoor lighting by 2020.
Educate our community about the harmful impacts of artificial lighting and light pollution.
Promote Montrose as a destination where stargazers come to enjoy our night sky.
Achieve International Dark Sky Community designation.

Local Foods: Supporting a strong, vibrant local foods system that fuels healthy people and a healthy local economy by working with the Valley Food Partnership and organizing to support Cottage Foods producers.
UVA supports our community partners in many ways and has a limited amount of money available to help with local projects and events. If you are seeking financial support from UVA,  please contact us at uva@westerncoloradoalliance.org.
Accomplishments
UVA formed in 1982 and over the years has been involved in some of Western Colorado Alliance's toughest campaigns – from forcing the clean-up of Louisiana Pacific's waferboard plant in Olathe to stopping plans for a low-level radioactive waste dump in the West End of Montrose County. UVA members were also a driving force behind our Alliance's annual Sustainable Living Fairs held in the mid-1990s.
UVA members started to tackle growth issues in 1994 when they successfully amended the County Zoning Resolution to improve the commissioners' ability to regulate land use. Since then, members have worked on the proliferation of gravel pits and attempted to limit the size of "big box" retailers within the city limits.
UVA members are also responsible for keeping Montrose Recycling Center open and for helping to push the idea of curbside recycling into reality.