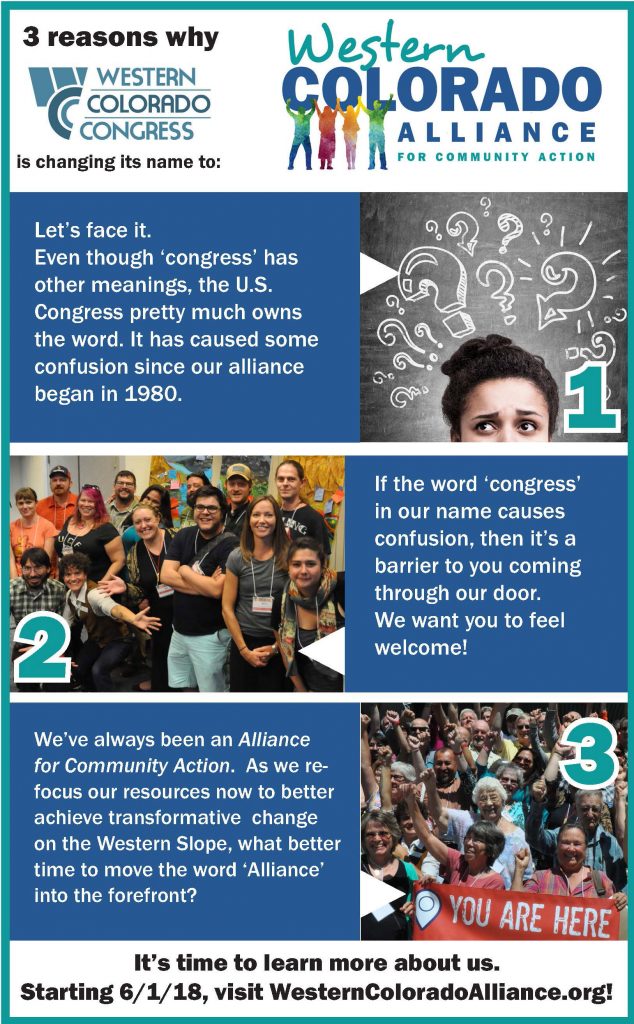 We've been sounding the trumpets on social media and in emails, so we hope you've heard the news — we're changing our name from Western Colorado Congress to Western Colorado Alliance for Community Action! It's not a decision we made lightly, as you can learn in the Q&A below.
Please plan on joining us in celebrating this milestone with an Open House at our office in Grand Junction (134 N 6th St) on Friday, June 1, from 3:00 – 6:00 pm! Besides learning more about our Alliance's plans for the coming months and meeting our new staff members, we'll be unveiling our new look and website, and serving some savory snacks and beverages.

Our plan is to change our website and email addresses to WesternColoradoAlliance.org as of June 1. However, if you are a creature of habit and use our existing westerncoloradoalliance.org, never fear. Your emails and internet searches will forward automatically to our new location!
Q: Why did we decide to rename Western Colorado Congress as Western Colorado Alliance for Community Action?
A: Let's face it: the word 'Congress' in our name has caused confusion with people outside our non-profit organization for nearly 38 years. Even though one of the definitions of 'congress' is "an association usually made up of delegates from constituent organizations", the U.S. Congress pretty much owns the word, and is what people think of when they hear it. Our leaders have thought about altering our name numerous times over the years, but were reluctant to lose the name recognition we had built here on the Western Slope.
So why change it now? We conducted an extensive strategic planning assessment in 2017, including a series of surveys and community meetings. As a result, we are launching some new and exciting work that we believe will refocus the organization on its original mission of creating a healthy and resilient Western Slope. It seems a perfect time to change our name as well, and eliminate the barrier it posed for new people to want to learn more about our work.
Q: What is new and exciting with the Western Colorado Alliance?
A: Our board recently adopted a new vision statement: Our Alliance's vision for the future is one where engaged local voices are leading communities across Western Colorado that are healthy, just and self-reliant.
If we're going to deliver on that vision, we need a strategy for creating progressive, transformative change. We need to transition away from the Western Slope's legacy of a fossil-fuel dependent economy to one that is sustainable and just. And so, we'll be framing much of our work in terms of Homegrown Prosperity – a phrase that encompasses energy issues, economic development, economic justice and community health.
We're also beefing up our Grassroots Democracy program to build our power and presence in policy-making bodies across Western Colorado. Our Alliance will also be contracting with a sister organization, Colorado Rural Voters, which is focused on changing the political landscape here.
Q: Are there other changes on the horizon?
A: The Board is still assessing how the structure of the organization might be modified to make it more efficient and nimble in responding to emerging issues in our communities.
Q: What has stayed the same within our Alliance?
A: Western Colorado Alliance for Community Action is as committed as ever to working directly with people to get involved and affect change in our communities. Our Alliance's staff of community organizers will still be supporting our members to tackle issues at the local and regional level, and to develop their skills as leaders.